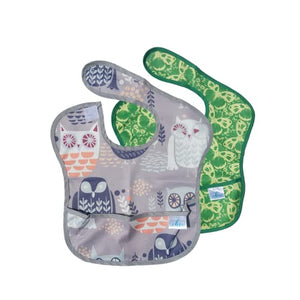 Designed For Baby Feeding And Eating - Changing after every meal is annoying. Our waterproof smock bibs cover the entire chest area, keeping baby and toddler clean after mealtime.

Easy To Wipe Clean - Make with unique fabric, our reusable baby bib is lightweight, soft to wear, waterproof, oil-proof, easy to wipe clean, and machine washable. Rinse under the sink between use, or simply wash it under cold cycle, and hang dry afterward.

Food Catcher - The built in crumb catcher and food storage pocket on the weaning bib helps catch food that misses the baby's mouth, and keeps food and liquid from reaching the floor.

Secure And Comfortable - Strong adhesive strap along the neck area for easy wear, and ensure a comfortable and secure fit on babies and toddlers. Gentle and soft on baby skin, our bibs are BPA-free, phthalate-free, PVC-free, and lead-free.

Fits Baby And Toddler - Adjustable along the neck fits baby as they grow . Each pack comes with 2 waterproof bibs, so you always have one handy. Fits infant, baby, toddler boys and girls from 6 months to 24 months.