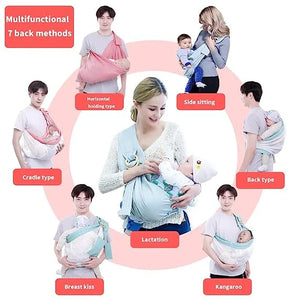 Carry your little one close to your heart while being able to go about your day in comfort and style in our baby slings.Prevent your baby's reflux and colics

Creates a nourishing heartfelt bond: carrying your baby close to your chest will feel like being wrapped in a loving embrace, which helps your little love gain a sense of trust & belonging. It is the most natural, womb-like position & creates an intimate bond between you both.

Safest carry position for correct hip development: many baby wrap carriers interfere with healthy hip positioning as the baby is held incorrectly or facing outward & this can increase the risk of hip dysplasia. Baby carrier with 5.1in wide padded shoulders for added comfort, so you won't feel fatigue or discomfort even after long hours of wear. Ergonomic redistribution of the baby's weight to ensure the healthy development of the baby's hips.

Easy to use:Baby are lightweight, easy to fold, portable, clean and machine washable, with baby and carriers, you can spoil your little one on a busy day, while freeing your hands to do other things, and mothers can breastfeed their babies anywhere, anytime.